"Glass skin" is a new South Korean beauty trend which refers to the appearance of smooth, flawless, translucent looking skin that resembles the smooth texture and clarity of glass.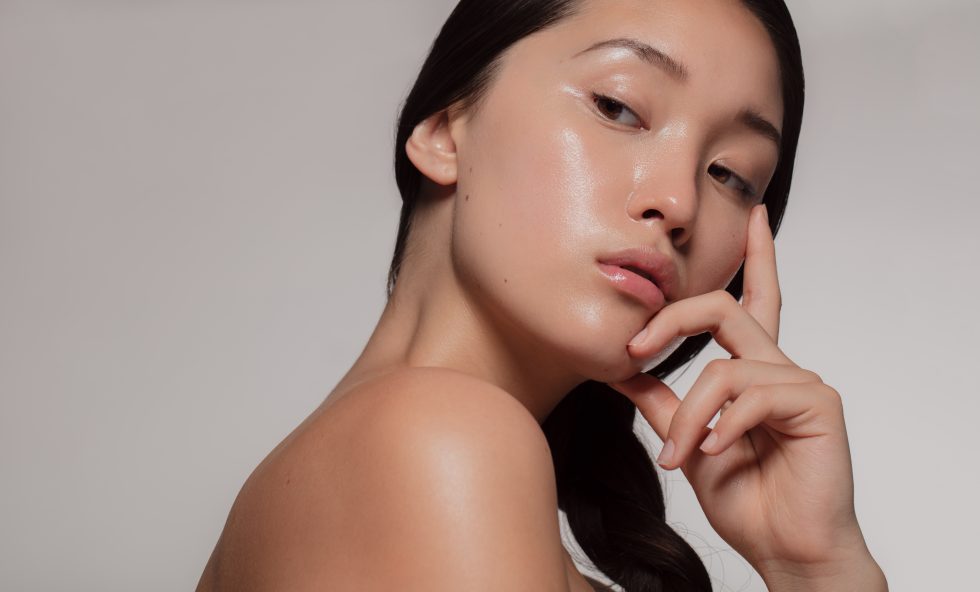 The goal is to achieve a youthful, dewy, and radiant complexion. Hydration is key to achieving this look but since there is no one single, universally agreed method, here's what I suggest as a skin expert. 
Choose your cleanser wisely – ensure your cleanser is not drying your skin out. Avoid cleansers with ingredients that strip your skin of natural oils like sodium lauryl sulfate, added fragrances and high levels of alcohol. Instead choose cleansers with natural foaming agents like Mikel Kristi Purifying Wash or Refreshing Wash which uses foaming agent derived from coconut.  
Keep your skin exfoliated – Eliminating dead skin cells is important to having a dewy complexion. Using products with AHA/BHA (chemical exfoliants) help minimize a buildup of dead skin on the surface – try the Mikel Kristi Rejuvenating Swipes or Biopeptide 10% Swipes and Vital A Serum nightly to promote cell turnover. A monthly facial with Dermaplaning and/or Microdermabrasion can make the skin smoother and more radiant.
Hydrate, hydrate, hydrate – I know you get bored of your esthetician telling you to drink more water but DRINK MORE WATER & hydrate your skin from the outside in. Try a DiamondGlow facial which exfoliates and infuses your skin with hydrating serums formulated specifically for your skin needs. Add hyaluronic acid to your skin routine, a humectant which retains moisture and is capable of binding over one thousand times of its weight in water! After cleansing, spritz your skin with toner (Mikel Kristi Lavender & Hibiscus) then apply your hyaluronic acid (Skin Medica HA5 Serum).
Skin Rejuvenation – Let's be honest, skincare can only do so much to create a more youthful and radiant complexion. It might be time to go deeper with lights, lasers, radiofrequency or ultrasound. These treatments are all different but ultimately do the same thing which is stimulate collagen production in the dermis. The best course of action largely depends on how deep your damage is currently. We recommend a complimentary consultation with one of our providers to decide which course of action is best for you.
To discover more about Mikel Kristi products, please speak to one of our friendly skincare experts at Skin Appeal or visit mikelkristi.com.