"I don't have the time for downtime right now."
"I can't take time off of work to peel."
"I don't want anyone to know I've had a treatment done."
Have you ever found yourself listing any of these concerns to your Skincare Provider? These are common barriers we often see patients run into when wanting to receive their skin rejuvenation treatments.
Life is busy. Healing can take time and commitment that we don't always have to dedicate. So how can we keep up with our skincare treatments when managing a busy schedule at home or work? Luckily, the technology available to us in the aesthetics industry has allowed us to be able to perform deep skin rejuvenation treatments like Virtue Radiofrequency Microneedling with little to no downtime.
What is Virtue RF Microneedling?
VirtueRF Microneedling is unlike any microneedling device currently on the market. While still being minimally invasive, VirtueRF is able to reach deep into the dermis of the skin by bypassing the epidermis, leaving it intact. RF Microneedling is an incredibly effective treatment for skin tightening/lifting, texture improvement, improving fine lines and wrinkles, reducing scarring, and more.
The microneedling portion of the treatment creates thousands of microchannels in the skin to stimulate collagen production, while the radiofrequency is delivered with each pulse to promote collagen & elastin remodeling, and tissue contraction to tighten the skin.
Why is Virtue RF better than other radiofrequency microneedling devices?
Minimally Invasive
Minimal to No Downtime
More Comfortable Treatment
More Dramatic Results
Radiofrequency Microneedling vs. Traditional Microneedling: Which Treatment is Right for You?
-Truthfully, VirtueRF can be a great treatment for almost anyone! If your main concerns include lifting, tightening, texture/scarring reduction, and more, VirtueRF is going to be the way to go!
-I typically do not recommend VirtueRF for darker skin types due to the heat delivered by the device, so that may be when traditional microneedling is a more suitable treatment for you. However, I always recommend coming into the office to see which form of microneedling is the best option for you!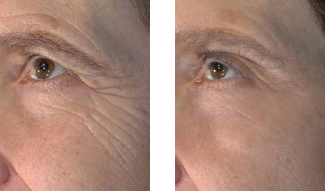 How Does Skin Appeal Set Our Radiofrequency Treatment Apart?
While doing a VirtueRF treatment on its own is still incredibly effective, here are some ways we utilize other treatments and tools available to us at Skin Appeal to make your results that much better:
-Combining VirtueRF with Exilis Ultra for more tightening. This is also known as our Lift Package, which is one of my favorite treatments for lifting and tightening around the neck and jawline!
-Combining VirtueRF with Neogen Plasma laser for more tissue coagulation. More heat in the skin = more tightening and textural change!
-Topping off your treatment with Exosomes. In simple terms, Exosomes help your cells communicate. When your cells communicate more efficiently, especially post-treatment, you get 30% more collagen production and your recovery time is practically cut in half!
VirtueRF is an incredible treatment and extremely versatile in treating so many different skincare concerns. If you're still not sure if VirtueRF is the right treatment for you, I welcome you to come into the office for a complimentary consultation with one of our Certified Laser Technicians, including me!